AIOE Congress
AIOE -1st All In One Event
Bari, 19 - 23 November 2018
Hotels
We strongly advise all participants to reserve hotel accommodation as soon as possible in order to benefit from the special rates.
The Nicolaus Hotel 4*


Via Cardinale Agostino Ciasca, 27
www.thenicolaushotel.com




Hi Hotel Bari 4*
Via Don Guanella,15/L
www.hihotelbari.com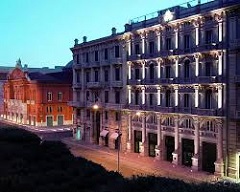 Hotel Ronḍ 3*
Corso Alcide de Gasperi,308
www.rondohotel.it


Hotel Moderno 3*
Via Scipione Crisanzio,60
www.modernobari.com

Reservations will only be confirmed if credit card details are fully supplied or alternatively a bank transfer of the total amount is received.Reservations will only be final upon receipt of the corresponding deposit
Each participant will receive an individual confirmation, indicating the cancellation policy of the hotel.
Payment of accommodation fee can be made through the "Accommodation form" using a credit card or by bank transfer to the Secretariat.
Payment by bank transfer – all transaction fees should be paid by the sender.
Important Notes
Bluevents shall not be responsible for all liability in respect of any loss, damage, injury, accident, delay or inconvenience to any person, or his/her luggage or any other property for any reason whatsoever, for any tourist services provided. Personal travel and health insurance is recommended.